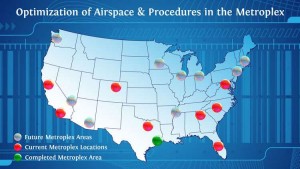 A new Federal Aviation Administration (FAA) effort to modernize air traffic flow around major cities is ignoring the chance to do slight re-routing that would minimize air traffic over dwindling areas of natural quiet.  The FAA is in the midst of a multi-year process to update the traffic patterns in and out of airports in 17 metropolitan areas.  Each "metroplex" is served by multiple airports, and the FAA's goal is to increase efficiency and on-time performance, using a number of strategies, including more precise coordination of flights into shared flight paths.  This includes some effort to consolidate flight corridors, which has the good news/bad news effect of reducing air traffic noise over many areas, while increasing it in some of the new corridors.  Unfortunately, some of the new concentrations of activity are over areas that were previously sanctuaries of natural quiet.
The National Park Service's Natural Sounds and Night Skies Program got involved early in this process, in the hopes that the new traffic schemes could reduce air traffic over relatively quiet park and wilderness lands.  Over the past twenty years, the NPS has pioneered efforts to highlight and protect natural soundscapes; their monitoring and management techniques are gradually being adopted by public lands managers in other state and federal agencies.  While deep wilderness settings are often the focus of these efforts (e.g. Grand Canyon, Yellowstone), many NPS holdings closer to urban areas provide easily accessible experiences of natural quiet.
A recent in-depth article in the East Bay Express looks at the way this has unfolded in the FAA's planning of the Northern California Metroplex around the San Francisco bay area.  The FAA has largely spurned the input from NPS, which hoped to protect or improve natural quiet opportunities in the Point Reyes National Seashore and in Yosemite National Park.  Despite formal NPS requests, the FAA refused to disclose the number of commercial jets flying over national parks in the metroplex, now or under their revised scheme.  "We have a long history of [the FAA] not agreeing with us," said Judy Rocchio, a program manager at the NPS Pacific West regional office. "We feel we're obligated to get this noise off of the wilderness areas. And so we're just trying to do our job, and they're just ignoring us."
NPS studies have found that visitors in some parts of Point Reyes hear aircraft as much as 27% of the day, while in Yosemite, aircraft audibility hits over 50% of the day around Tioga Pass and Tuolumne Meadows.  "A lot of high-altitude jets … get funneled over Yosemite," said Vicki Ward, NPS overflights program manager, who is also based in Colorado. "It's just constant."
The FAA analysis of their new system tracks 24-hour noise averages, finding that no areas that currently experience 45dB or more would have as much as a 5dB increase.  Yet these figures both obscure the impact of a transient minute or two of sound (especially late at night), and, remarkably, don't even aim to assess impacts on areas with current sound levels of below 45dB.  This is apparently because of a primary focus on noise impacts in populated areas; 24-hour sound levels of 45-65dB are common in these areas, and the FAA determined that their plan wouldn't significantly add to this.  However, in quiet natural areas, where sound levels are often well below 45dB, each burst of sound at or above that level can be clearly audible and disruptive.  And, some populated areas are seeing radical increases in flights; a particularly extreme example is Happy Valley, outside Santa Cruz, where overhead flights increased from an average of 3 per day to almost 150.
Rocchio is particularly concerned about a new corridor over the central part of Point Reyes, which had been a refuge of relative quiet; flights were reduced in some less-remote parts of the National Seashore and are now concentrated in its wild heart (see image above; paler overlay at top shows new concentrated flight corridors). NPS requests that flight paths be diverted offshore were rebuffed, in part due to airspace there that is closed, due to occasional military flight activity there. Fifteen years ago, discussions were underway to open some of this area up for commercial flights, but after 9/11 the Pentagon suspended these talks and decided they needed access to it at all times (a stance that's familiar to ocean noise campaigners, who have been trying for years to set a few areas off limits to sonar training).  As for Yosemite, the FAA "metroplex" planning area did not extend that far east, so no changes were considered there.
Issues like this have also plagued the nationwide Air Tour Management Planning process, a supposed collaboration between the FAA and NPS to manage helicopter and small plane tours over national parks.  Fifteen years of meetings have come up empty so far, largely thanks to conflicting approaches to measuring noise and conducting environmental impact analysis.  The contentious Grand Canyon overflight plan process predated the ATMP legislation and  was completed by the NPS (and abruptly disrupted by Senators McCain and Reid in the home stretch).  There is some effort underway to find a legislative fix for the impass, perhaps offering the NPS more of a lead role in the EIS process, while also allowing for voluntary air tour agreements in smaller parks with few flights.
"The Federal Aviation Administration has a very different mandate than [the NPS]," notes Vickie Ward, the NPS overflights program manager. "We look at why parks were established and what were the resources being preserved. In that difference in our mandates, it's made it really difficult for us to find common ground."  For Rocchio, the longstanding dispute over air tours speaks to her broader frustrations with the FAA's priorities. The FAA "seems to be more of an advocate … for air tours, and I'm not sure they need to be advocating for the air tour industry," she said. "Shouldn't they be partnering with another federal agency to protect resources?"
One Response to "FAA spurns opportunity for quiet area protection in traffic pattern updates"
aeinews.org » Blog Archive » National Park air tours restricted at sunrise and sunset for first time Says:
July 22nd, 2015 at 12:58 pm

[…] not much, but it's a start.  The troubled FAA/NPS collaborative planning process has completed an actual final plan to manage air tours at a national park.  But don't get […]